What is Clickfunnels One Funnel Away Challenge?
What Do You Learn In The OFA Challenge?
Looking for a review of the one funnel away challenge? You're at the ideal place! if you want to learn how the challenge can take your business to new heights on the internet, then continue reading.
It's not very often that something comes along and entirely surprises you, both in terms of content, but how much you learned when going through the sessions.
The One Funnel Away Challenge was that for me! If you are thinking about doing the OFA challenge my recommendations is JUST DO IT!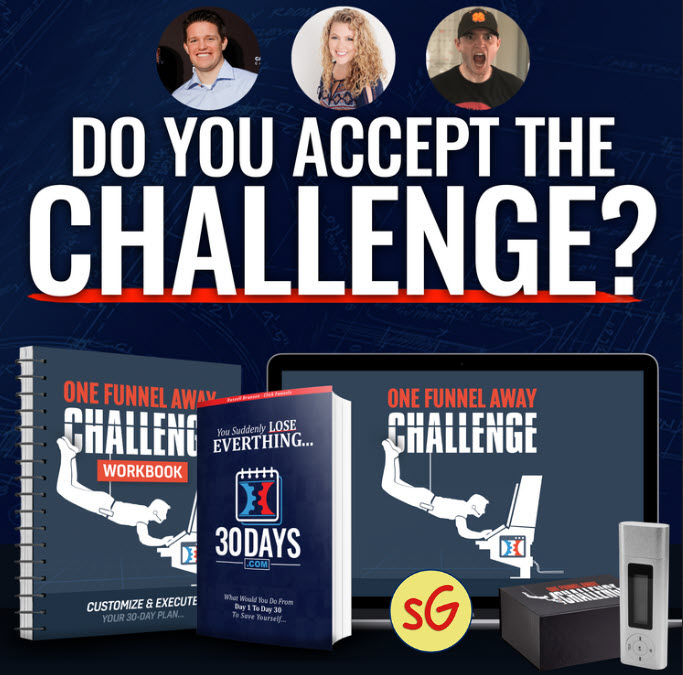 Do not think twice and simply sign-up and do it. If you are serious about your online business, then the One Funnel Away Challenge is a must! The One Funnel Away Challenge on my list of things to do for months, however I constantly had something else I felt was more vital. I kept putting it off, leaping from one thing to the next believing all these random things would make all the difference. If I 'd only known the value in the OFA Challenge, I would have done it before…
Below it was me opening my box when being on vacations in Switzerland… I'm glad I took the paperback option too… it's really good to have the OFA workbook every day on my desk…
Click to Get the OFA Challenge
The Best $100 You Will Ever Spend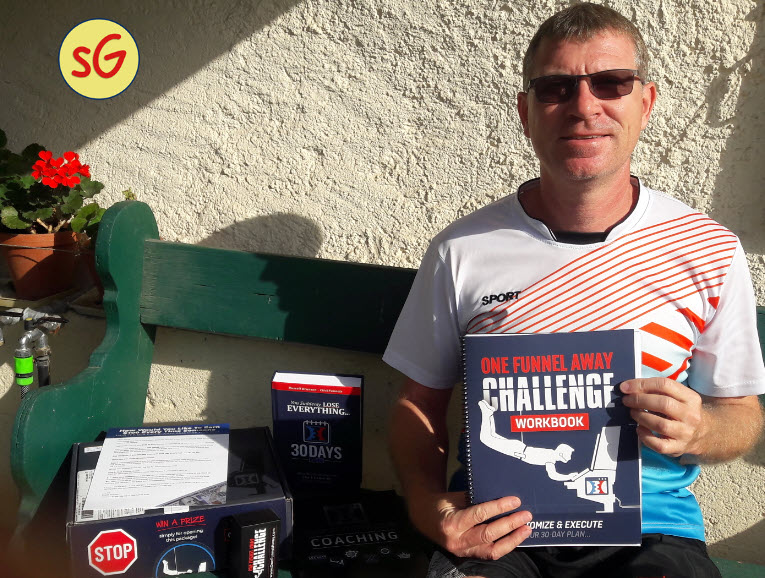 Among the important things that Russel Brunson teaches, and what you'll learn in the challenge is to create a bonus stack for any offer. And the one funnel away challenge is no different. Besides the training itself, you're going to get a physical paperwork sent out to your home in the form of your OFA challenge kit. It was a big pleasure when I received it in the mail!.
Who are the Coaches in the ClickFunnels OFA Challenge?
Russell Brunson of course, and "Mr. 100k Volts "Stephen Larssen. Julie stoian will be your 2nd coach in the OFA challenge, she is the executive partner and VP of marketing at Clickfunnels who is likewise a 2 comma award winner who has actually created a number of extremely successful online course. Like Russell, she coaches other entrepreneurs in how to scale their business into the next level and struck 7-figures.
But personally, I really loved watching Stephen's videos, he's so energetic and inspiring. Always starting with a big BOOM and then jumping directly into the subject.
So, how much is OFA challenge?
In order to get all of the one funnel away challenge bonuses, you will purchase the OFA challenge utilizing this link:
Click to Get the OFA Challenge
The Best $100 You Will Ever Spend
There are great deals of resources on the internet that will teach you about building sales funnels. A few of them even do a good task of it. You can buy a Udemy course or ebook that will teach you everything about sales online. But they're all missing some special worth that you can just get with the one funnel away (OFA) challenge.
The one funnel away challenge generally costs $100. For that price, you have the alternative of getting either the digital version of the OFA challenge or the physical version of the OFA challenge. Bear in mind that with the physical variation you'll need to pay an extra $19.95 for shipping.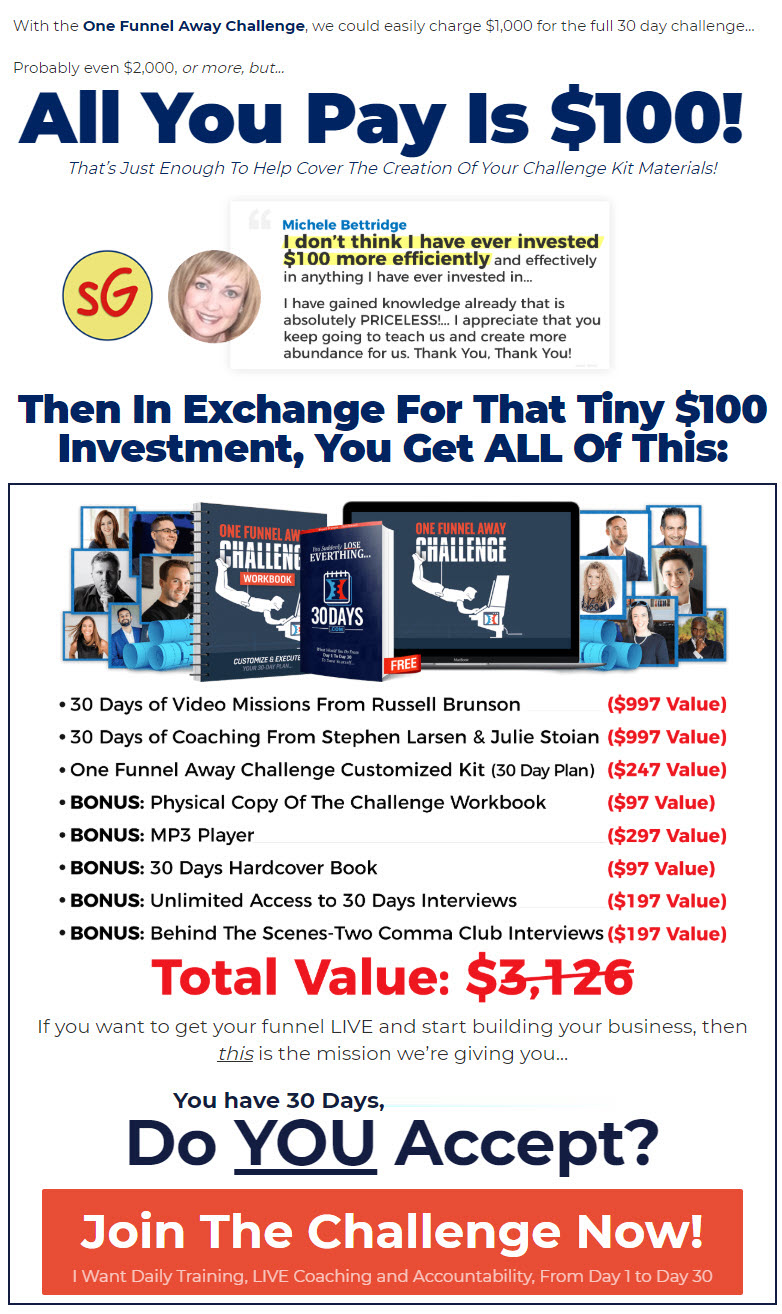 Is the OFA Challenge worth it?
The one funnel away challenge is among the very best investments you will make in 2019 and for the coming years. The ofa challenge is worth countless dollars for the amount of worth that you receive throughout the 30 days. You will likewise be connecting with other trainees that will share ideas and development with you which will help encourage you to act towards your objective.
Inside the ofa kit, you'll find the 550-page 30-days. Com challenge book, the one funnel away workbook and a preloaded funnel training mp3 player among other materials. With the entire package valued at $3,126, the price is a supreme steal and you are guaranteed to get your money's worth. Envision being able to find the key to your success for just $100! this is certainly worth more than the price.
Russell teaches a particular strategy when providing a product or service, and it's called a bonus stack. This on it's own made the challenge worth it! aside from the important training he provides, you'll get a physical ofa challenge kit sent out directly to you. Receiving this in the mail is a great sensation, and provides a tangible product to accompany the course.
Here's the map: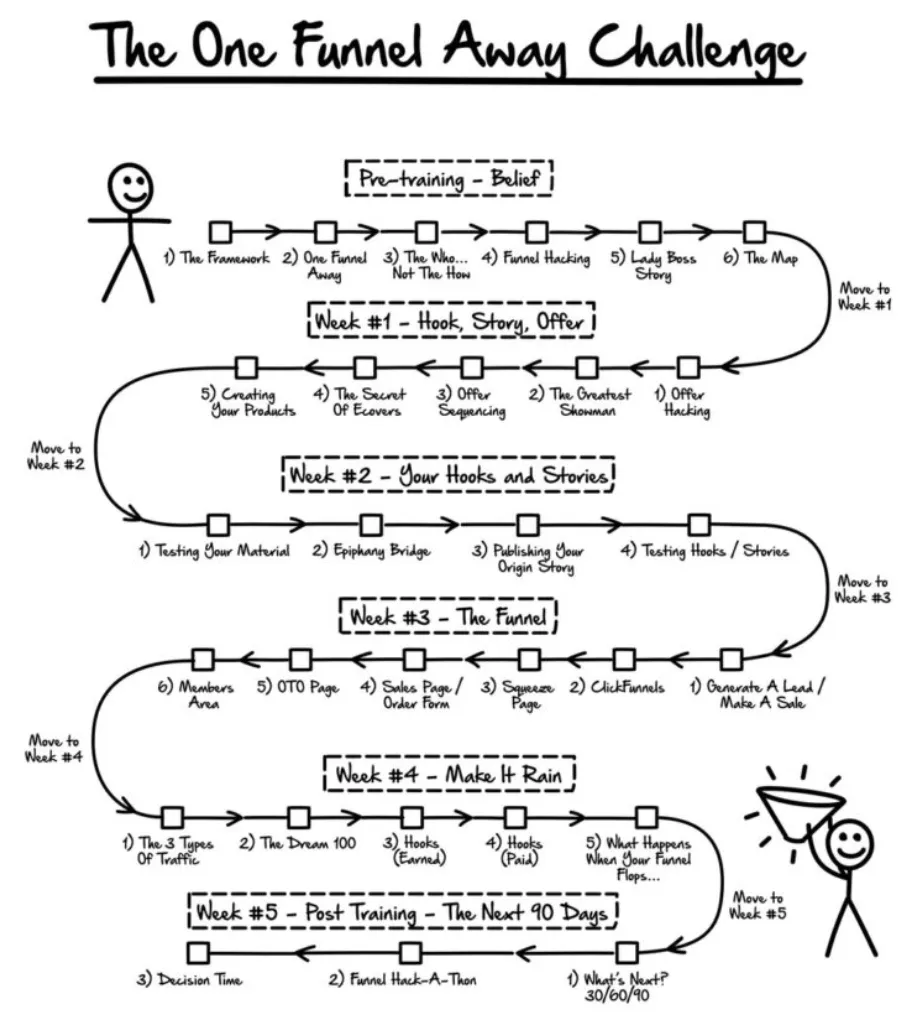 The One Funnel Away Challenge Facebook Group
The 1 month One Funnel Away (OFA) Challenge assists you in building your very first sales funnel and your sales goal. At the OFA, you will learn to prepare your mind for success, create good sales offers, and find your best audience. You have the OFA challenge with other #ofachallenge colleagues in an individual Facebook group, and you can chat with others who are also in the exact same position as you. You will receive daily emails with your daily assignments. Enjoyable and inspiring!.
How Do I promote the OFA as an affiliate?
If you're thinking to promote the One funnel Away Challenge as an affiliate then you first require to join Clickfunnels to be an affiliate for them.
If you sign up to end up being a Clickfunnels affiliate then you can likewise promote the one funnel away challenge and make $100 for each individual who signs up with the challenge. This is a great method to increase your earnings and is also more evidence that Russell and his group do not make any money for running the OFA challenge.
See some of my personal earnings (I definitely need to promote more…)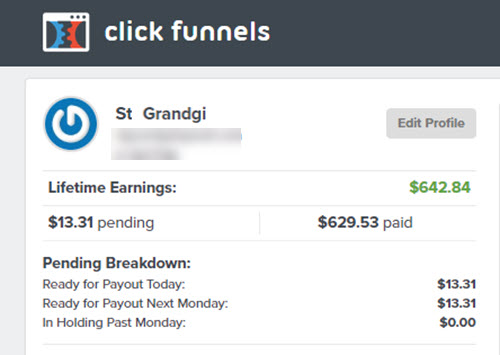 The one funnel away challenge is best for those who want to promote and sell their services or product using clickfunnels. But what about if you have no services or product to sell? is the ofa challenge still helpful for you? heck, yeah! you can use clickfunnels to promote affiliate product and services, so the one funnel away challenge still has a bearing.
Join the OFA Challenge!
This is the fastest way you can learn core funnel techniques and build an impressive business and earnings!
Click here to join the ofa challenge today!.
As soon as you join the challenge, Clickfunnels will mail you the 550 page 30 days book discussed above. Clickfunnels will also send the ofa workbook to utilize together with the 1 month course. The workbook is your companion to the daily video training.
What I didn't like about the OFA challenge
Absolutely nothing…
Going through this training has been a joy and I was excited to get the new content every day!
Conclusion
The one funnel away (OFA) challenge is a thirty days training where the coaches guide you step by step to launch your very first or next funnel. The course is provided by the co-founder of Clickfunnels, Russell brunson and 2 other coaches, Julie Stoian, and Stephen Larsen.
And if you then become a One Funnel Away Challenge affiliate, you have the chance to share a challenge that can change somebody's life. Bring into play your own story and utilize it as a catalyst to efficiently promote the ofa challenge in the content that you create and the ads you promote.
Simply a no-brainer… Click the link below to access the OFA Challenge
Click to Get the OFA Challenge
The Best $100 You Will Ever Spend